Back in November of 2008, when I launched IDreamOfPizza, I had no expectations for what I wanted the blog to be. All I knew is that I loved pizza and writing and figured I'd combine the two and see what happens. Before I wrote a single post on the blog, I created a logo. I don't remember the exact process I undertook, but it likely required little thought or effort. I wasn't building a business or a pizza empire. So I didn't really put much time into creating a brand identity. From what I recall, I simply Googled something along the lines of "delicious pizza" and saved the most delicious photo to my computer.
I opened the image in Photoshop and played around with some fonts and styles. What color should the site's name be written in? Should it be IDreamOfPizza or I Dream Of Pizza? Here is a draft I still have on my computer dated 11/09/08 at 12:16AM.
Ultimately, I decided on a color that clashed a little less: black. And I used my limited photoshop skills to make the pizza look like it was dripping over the text.
And from November 2008 until July 2013 — almost five years — that was the logo on IDreamOfPizza. For the most part, the logo went relatively unnoticed. And by that I mean that I rarely received any comments or feedback about it. One memory that sticks out to me, even today, was being at the 2010 Village Voice Choice Eats and introducing myself to Motorino owner Mathieu Palombino. When I told him I ran IDreamOfPizza, he preceded to tell me how much he loved the logo and how hungry he would get upon seeing it.
In some other positive reinforcement, Pizza By Cer Te in Midtown, told me that they actually modeled a pizza photo shoot after my logo. The results can be seen below.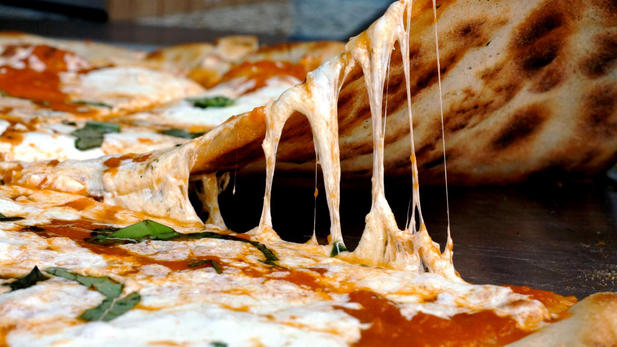 To tell you the truth, it always bothered me a little that I never knew what establishment the pizza in my logo was from. Heck, I didn't even know what website the photo was originally pulled from. Those issues — combined with the growth of the site — ultimately led me to consider having a more professional logo created.
In July 2013, I began the painstaking process of converting this website from Blogger over to WordPress. And I figured that was as good of a time as ever to produce a new logo. But the new site was ready to go live before a new logo was ready. So I put up a "beta" logo that I only intended to leave up there for a short time period. Below are two "beta" logos that I created which didn't make the cut, followed by the logo that has been on the website for the past 18 months.
Even these "beta" logos, like the original IDreamOfPizza logo, were created by myself in Photoshop. For a more permanent logo, I knew I needed to bring on somebody more professional. In early 2014, I was put in touch with the team at a company called Animation Domination High-Def (ADHD). They are the folks behind a block of cartoons at FOX. And they also happen to love pizza. Their social media icon, for example, is a slice of pizza. And they've created hundreds of pizza related images and animated GIFs, a sampling of which is below:
One thing led to another and the folks at ADHD offered to work on a new logo for IDreamOfPizza. And today I am excited to reveal the site's new look.
Huge thanks to the folks at ADHD! I hope everyone enjoys the new logo!